The Best Basket Weaving Supplies is what we're all about! It's how we began our business in 1981. Always top grade supplies and, of course, our world famous basket weaving kits.
Yes, we ship our basket weaving kits worldwide.
Our basket weaving kits feature:
easy-to-follow instructions
step-by-step details
illustrations and photos to go with every step
more than enough basket weaving supplies to complete your project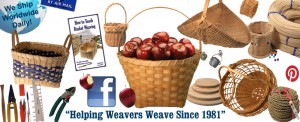 Best Basket Weaving Supplies !
We sell flat reed, round reed, flat oval reed, smoked reed, half round reed, basketry hoops, basketry D handles, notched and carved handles, fiber rush, Shaker tape, chair cane, binder cane, raffia, ash splints, basket weaving books, dyes and stains, bases and tools, too!