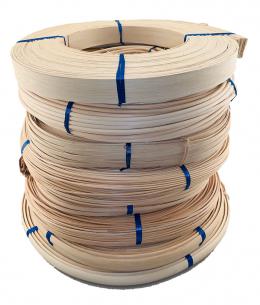 We're proud to offer our customers Superior Quality Basket Weaving and Seat Weaving Supplies at Reasonable Prices. All of our reed is p remium, precision cut from the core of the rattan vine. You'll never find "seconds" or "slightly hairy" for sale at V. I . Reed & Cane Inc.
---

"When I received my reed this week I just wanted to throw away all my old reed (from other companies)! Yours is flawless. Perfect. Thank you so much." a very satisfied customer
Reed is sold by the "pound". A "pound" is the same as a "hank", "coil" or "bundle". We have DYED FLAT REED here. Other types of reed: Round Reed Half Round Reed Smoked Reed
Remember our GUARANTEE: No questions asked. 100% money back guarantee. "If you don't get the results & quality that we guarantee, we'll gladly give you a complete refund of your full purchase price."