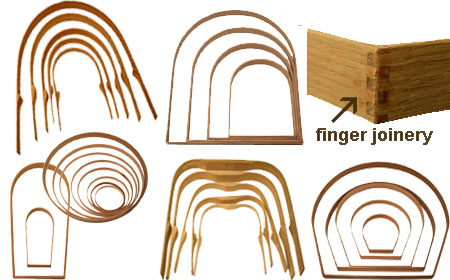 Round hoops, oval hoops, rectangular rims, D handles, Williamsburg handles, Bushel handles, Tulip handles, Hearth frames, Carved handles and more.
We have only one Quality level for our handles: The Best! All of our D handles, WIlliamsburg handles, Tulip handles and Hearth frames have Superior Quality Finger Joinery. You won't need to sand them either! Awesome handles at super prices. You'll be very pleased with your handle purchase.

SIZES: First number = WIDTH. Second number = HEIGHT. Example: 4 x 9" D handle = 4" WIDE, 9" TALL.
SCROLL DOWN this page to see complete selection. Click on LINKS to see larger photos of some handles.